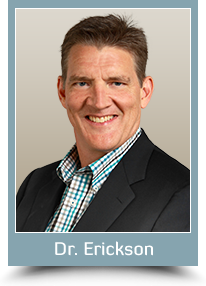 Meet Dr. Erickson
Finding Chiropractic
"I grew up in a small town in Wisconsin," says Dr. Rick Erickson. "During high school and college I suffered numerous sports injuries and developed acute back pain while working on a farm."
"I had already decided I wanted to become a medical doctor, but my experience with chiropractic changed that."
"Chiropractic had helped a lot with my pain and injuries, and one day my chiropractor asked if I'd ever considered becoming a chiropractor myself," says Dr. Erickson. "He thought I would have more fun working as a chiropractor than becoming a family doctor and writing prescriptions all day – and that proved he knew me well." It was an idea worth considering.
A Passion Coming Alive
"At that time in my life, I was on fire about helping as many people as I could." To help in his decision, Dr. Erickson asked his chiropractor if he could watch him work with other patients. Seeing the difference that chiropractic care made to people of different ages, and with varying problems, was all he needed. "I knew I wanted to be a chiropractor."
Dr. Erickson attended Palmer College of Chiropractic. He was so inspired by all that he was learning about chiropractic, and by working with patients, that he convinced his two brothers and at least a dozen of his patients to become chiropractors as well.
Serving Family and Community
Since 1986, Dr. Erickson has been practicing in Winston-Salem.
Don't Let Pain or Problems Linger
Dr. Erickson promotes a proactive attitude. He encourages patients to fix a problem quickly before it escalates into something larger, and he follows his own advice.
Several years back, Dr. Erickson had a leaky mitral valve. He went to Cleveland Clinic and underwent robotic heart surgery to fix the leak, and was back to work in just 3 weeks. He teaches that we should "Fix it fast – be active and aggressive with your care and get health restored as quickly as possible."
Schedule your appointment with Dr. Erickson by calling (336) 760-1333.
---